Accessibility repairs to your website can be tricky.  For those who are not familiar with accessibility, this is new territory even for seasoned developers. 
Our team will utilize your Accessibility Audit Report to perform code remediations on your website to meet the WCAG 2.1 guidelines. 
We also can remediate documents and videos to meet the WCAG 2.1 accessibility guidelines.
Deliverables
All errors are remediated based on the Accessibility Audit Report.
An optional VPAT can be provided. This report can be used as a point in time to show your website is accessible and any outstanding issues. 
Schedule a convenient time to discuss your organization's needs.  We will find best solutions for your website accessibility testing, remediation and ongoing methods of keeping everything accessible.
Contact Form
Schedule A Meeting
Contact Form
"*" indicates required fields
Schedule A Meeting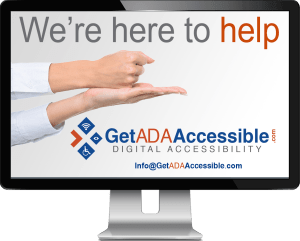 Receive Accessibility Tips in Your Inbox