Why have an accessible website?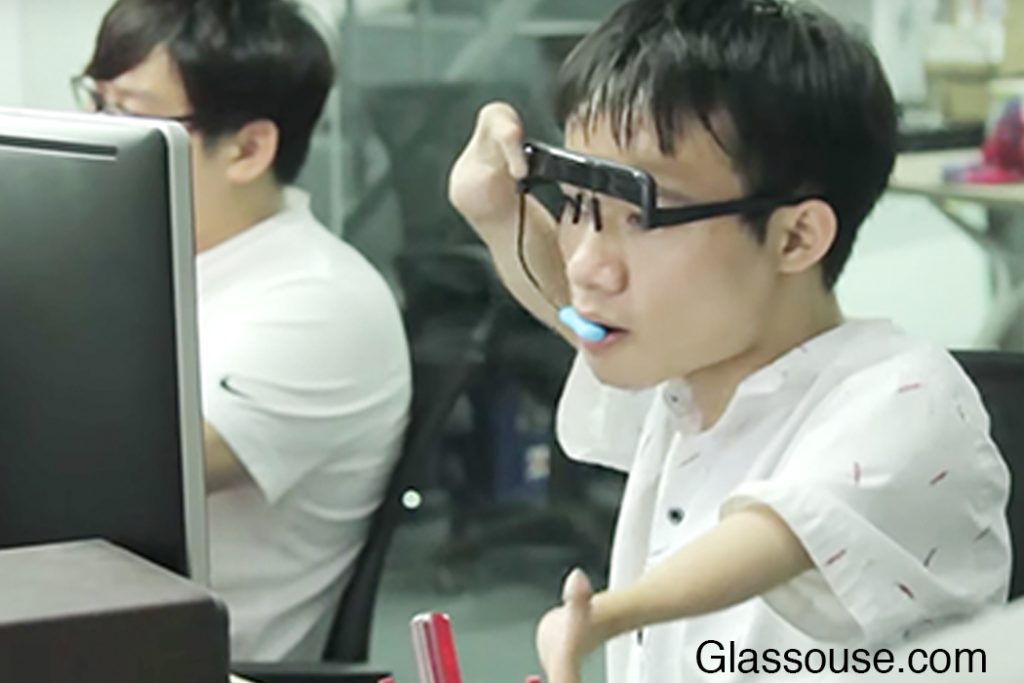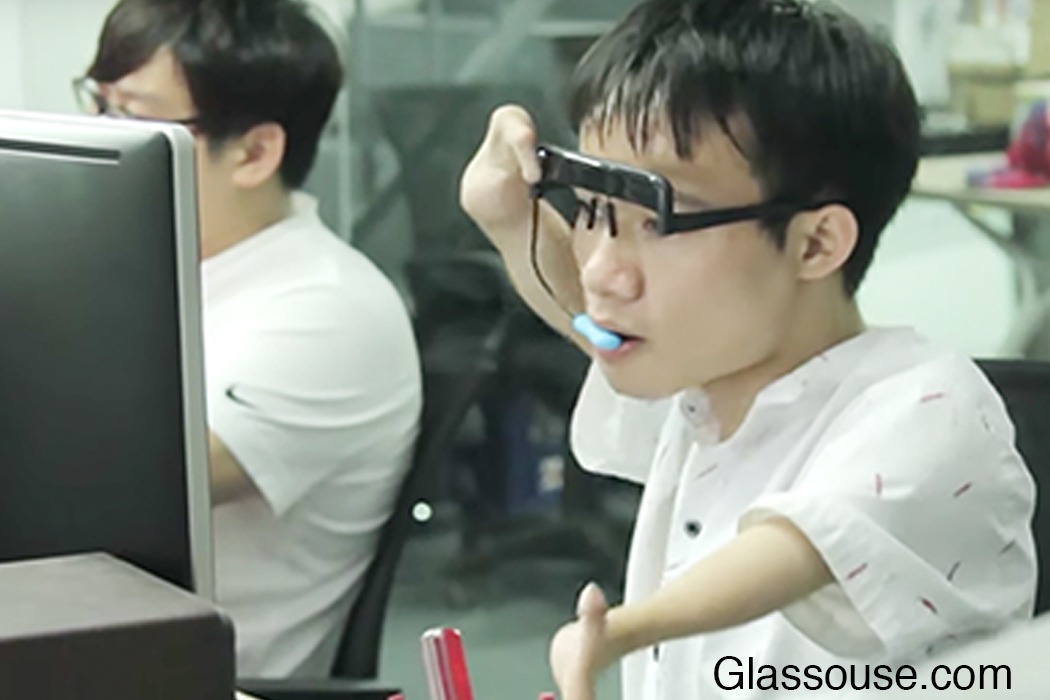 When you hear the term ADA compliance, chances are you think of wheelchair ramps, handicap parking spaces or bathrooms. But have you thought about how disabled persons use the Internet?
Imagine trying to navigate a website with your eyes closed or your hands behind your back.
It's impossible unless a website is programmed properly to work with assistive technologies used by those with disabilities.
Assistive Technology empowers those who otherwise would not be able to utilize today's technology conveniences.
An accessible website gives those with disabilities full access to the Internet to buy products, apply for a job, pay their utility bills, take an online course and any other functionality that most people take for granted. 
What is Digital Accessibility? 
Accessibility is required under 2 different laws:
Americans With Disabilities Act (ADA) – 
The Rehabilitation Act of 1973 – Sections 504 and Section 508
For website accessibility, the section of the AD that applies is Title III Title III – Public Accommodations and Commercial Facilities. It's the same law that requires handicap parking spots, handicap bathroom and other access for those with disabilities.
Title III of the American with Disabilities Act
According to W3C, "The Web is fundamentally designed to work for all people, whatever their hardware, software, language, culture, location or physical or mental ability." When this happens, people with hearing, sight, movement, or cognitive disabilities will have the Web available to them as well.
In 1990, President George H. W. Bush enacted The American with Disabilities Act (ADA) to eliminate barriers for people with disabilities. The Americans with Disabilities Act (ADA) is a federal civil rights law that protects qualified individuals with disabilities from discrimination and provides for equal access and opportunity in public accommodations, employment, transportation, state and local government services, and telecommunications.
This law is far reaching and touches almost every type of business.
The Rehabilitation Act of 1973 has two sections that apply to websites: Section 504 applies to schools and organizations who receive federal funding or supply services to those who are under Section 504. Section 508 applies to government websites.
Both laws use WCAG Standards for website accessibility. 
The WCAG Standards for Website Accessibility
The WCAG Guidelines are broken down into principles. (P.O.U.R.)  Within each are requirements based on each principle.
Principle 1: Perceivable – Information and user interface components must be presentable to users in ways they can perceive.
Principle 2: Operable – User interface components and navigation must be operable.
Principle 3: Understandable – Information and the operation of user interface must be understandable.
Principle 4: Robust – Content must be robust enough that it can be interpreted reliably by a wide variety of user agents, including assistive technologies.
There are three levels of accessibility: A, AA and AAA.
How Does This Affect Website Users?
Any content, items for sale, download of documents, forms, and any other types of content you offer must be made available to people who have handicaps as well. This includes those who are visually impaired such as color blind, low vision and blind who need special alternative views and the use of screen readers.
For website users who are hearing impaired, they require closed captioning on videos and audio provided on your website.
For those who have physical handicaps making it impossible to use a keyboard, they use special equipment, such as head pointers, they too must have access in the same manner as all users on your website.
Who Must Comply with Title III and Section 504/508?
All public entities must comply with Title III of the Americans with Disabilities Act.
Each state and local government's services, activities, and programs that are provided to the public must be accessible. Services, activities, and programs are subject to Section 504/508 if provided directly or supplied through contractual work or licensing. Even if a state and local program is not funded by or receives financial assistance from the federal government, it must still comply with the ADA under Title III.
Every state and local government program, including schools and universities are to follow Section 504/508 of the Rehabilitation Act applies to organizations that are recipients of federal funds.
Basically, every business falls under one of the two laws. 
What happens if your website is not accessible? 
Some website owners receive "demand letters" many to the tune of $50K or more. Some businesses just receive notice of litigation and then scramble to find a solution for their accessibility. When either of those happen, the costs incurred are always more than being proactive. Businesses must then make their websites accessible, usually pay a settlement and their attorney fees.
The U.S. Department of Education's Office for Civil Rights (OCR), chances are increasing that you will. The OCR is increasing the number of investigations to ensure school districts are complying with their legal obligation under Title III of the Americans with Disabilities Act (ADA) and Section 504/508 of the Rehabilitation Act of 1973, both of which detail the requirements necessary to avoid discrimination of individuals with disabilities. As many as 350 investigations have been performed by the OCR along with many individuals and disability advocacy groups are filing legal demand letters and lawsuits against schools. Most of these have reached successful settlements. Source: LegalNewsLine.com.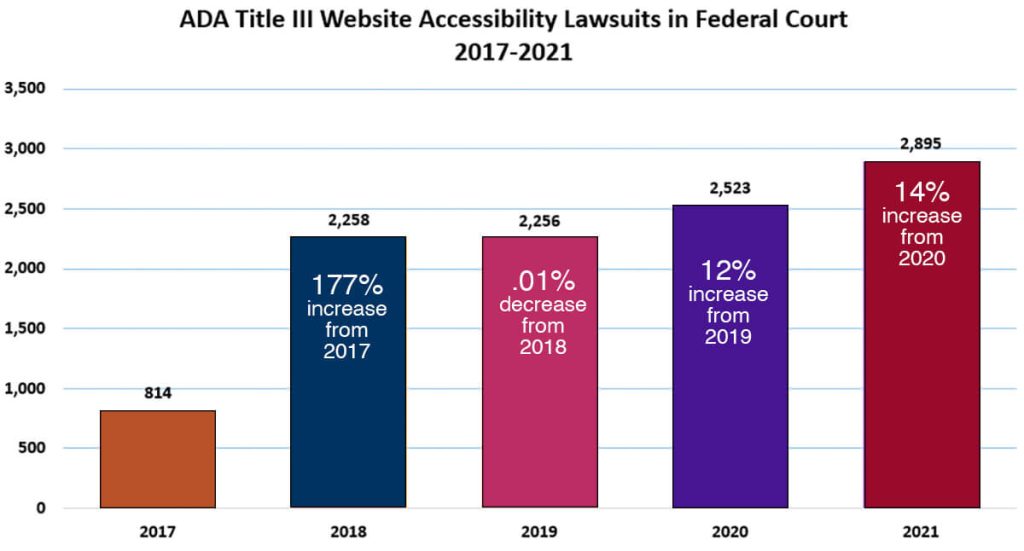 In 2016, many lawsuits were filed by individuals and supported by the NFB and Justice Department.
Ms. Dudley, of Miami University in Oxford, Ohio sued the University for discrimination stating the website did not work with her screen reader. In its separate agreement with Ms. Dudley, the university denied liability but agreed to pay Dudley $108,000 for expenses toward an undergraduate degree at another university. Miami University also agreed to pay Dudley $102,000 for pain and suffering and repay up to $50,000 for student loans. Source: Seattle Times.
Target learned this from a $6 Million class action lawsuit settlement, as did H & R Block, Home Depot and other businesses. The fines and consequences are serious for those in non-compliance.
Target stores set a precedent in 2008 when it agreed to settle a lawsuit alleging that its website was not accessible to the blind, agreeing to improve the website and pay $6 million into a "Damages Fund" for members of the class-action lawsuit. The court also awarded about $3.7 million in attorney fees.
In March 2014, subsidiaries of H & R Block agreed to pay $45,000 to two individual plaintiffs and a $55,000 civil penalty.
You can view more cases by doing a quick Google search for ADA website lawsuits and read this article how online stores are being targeted. 
Section 508 Non-Compliance Penalties
Fines up to $55,000 for the first violation and $110,000 for each subsequent violation.
Those who receive Federal funding could have those funds revoked for being in non-compliance. It's not anything you want to ignore.
Legal issues are not the only thing to take into consideration. 
An accessible website gives those with disabilities full access to the Internet to buy products, apply for a job, pay their utility bills, take an online course and any other functionality that most people take for granted.
Having an Accessible Website can help to…
Increase Revenue
Provide Independence
Stay within the Law
Those with accessibility needs are spending their money on websites, but choose to spend their money on websites that are accessible and easier for them to use.
of customers who had accessibility needs said they would spend more time on a site if it were more accessible.
with accessibility needs will click off a website if they find it difficult to use.
estimated spending power of customers who clicked off the website
Next Steps:
Take the worry out of accessibility. Make our team your Accessibility Team.
We can work with you, your internal IT professionals, or your legal counsel to make sure that all stakeholders understand the requirements of full digital inclusion for those who are sight impaired, deaf, or hard of hearing, or who have physical limitations that prevent them from navigating your site, and to ensure that this diverse demographic of potential customers have access to all of the products, information, and resources that you offer.
Schedule a convenient time to discuss your needs.  We will review your goals with you and determine  the best solution for your business' website accessibility.
Our team of accessibility experts are here to help you every step of the way.