Dedicated to your website accessibilty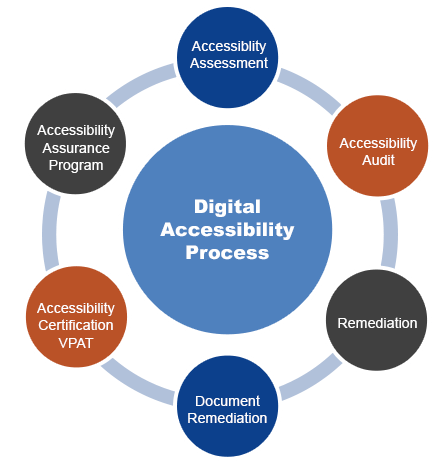 Providing access for those with disabilities
and peace of mind for businesses
Get ADA Accessible is dedicated to creating accessible website solutions to assist businesses, government organizations and schools to provide all visitors with a great experience when visiting your website. Following WCAG 2.1 standards used by American Disabilities Act (ADA) and The Rehabilitation Act – Section 504 and Section 508.
what brings you to Get ADA Accessible
Let's see where you stand to know how to reach your accessibility goals. Testing your website for accessibility is the first step using WCAG 2.1 standards.
It's never easy being on the receiving end of a legal struggle.  See how we can help you with your accessibility demand letter or lawsuit. 

Start with a fresh, new website. Our experienced developers and talented designers will develop an ADA Compliant website using the best practices.
To be in full compliance, documents you offer must also be ADA Compliant.  Our experienced remediation experts will review each document for errors, evaluate the document to ascertain the needed remediation.  PDFs, Word documents and more. 
The Voluntary Product Accessibility Template (VPAT)  is a time-based report that certifies on a specific date, this is the state of your accessibility on the website. If you are in a lawsuit or working with government agencies this report may be asked for.
It's never easy being on the receiving end of a legal struggle.  With our Website Accessibility Assurance program, we can monitor your website for new ADA digital errors and also provide ongoing support and testing on a set basis. 

Website Accessibility Solutions For Your Business
It doesn't matter what industry your business is in,
Get ADA Accessible has accessibility experts who know how to provide the services that fit your needs.
We have provided accessibility testing, remediation and accessible website developments for schools, ecommerce online store owners, hospitality website owners,  government agencies.
Digital Agencies have partnered with us as their digital accessibility partner for their clients who need digital accessibility.
PROVIDING EQUAL ACCESS FOR USERS
Running a business requires so many things to keep on top of.  Accessibility may not be on the top of the list. 
Stop worrying if your business is a target lawsuits for non-accessible websites for  Americans with Disabilities (ADA) guidelines.
Provide all your customers, students or clients an accessible website they can use with their assistive technologies they use everyday. 
Using assistive technologies
Have you wondered how people adept to using technology. They use devices for their specific need.
Overlays require the user to abandon their preferred devices if they are to use the overlay.