ADA Compliance Law
The number of Federal Website Accessibility Lawsuits Almost Tripled in 2018, according to Seyfarth Shaw.  The largest majority of those cases (96%) were filed in Florida and New York.+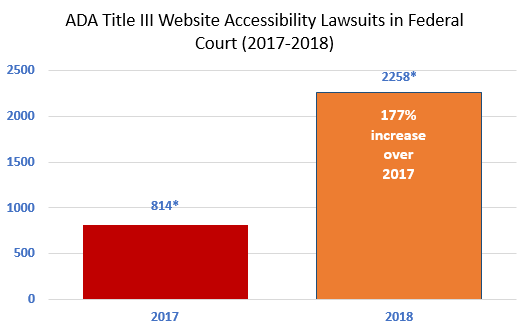 People with disabilities have filed lawsuits against businesses both large and small when the websites were not coded property to work with the assistive technology they use, such as screen readers, keyboard only navigation, color contrast and others that are needed for them to use the website like others who are not disabled.
Title III of the ADA prohibits discrimination on the basis of disability in the activities of places of public accommodation. ADA.gov lists 12 categories found in the ADA such as restaurants, movie theaters, schools, day care facilities, recreation facilities and doctors' offices.
There are six main industries who are being hit the hardest as noted by UsableNet: retail, food service, travel and hospitality, banking and financial, entertainment and leisure and self-service. However, we have spoke with many cities, ecommerce stores, car and tire dealers who have been served either demand letters or have been sued.
So how does this pertain to a website?
On July 26, 1990, President George H.W. Bush signed into law the American Disabilities Act (ADA). During the early 90s, the Internet was not such a large part of our lives. Today we can almost run our entire lives on the Internet.
In 2016, a landmark case Gil v. Winn-Dixie Stores was found to have violated the ADA because its website was not accessible to the blind plaintiff.  Mr. Gil was wanting to use the website to fill prescriptions and to locate coupons. Winn-Dixie was ordered to update its website.  The court held that only websites with "nexus" – a link to a physical location are subject to the ADA.
Non-Physical Location Lawsuits
Although the Winn-Dixie case was tied to a physical location having a website, other cases have been decided for the plaintiff that only has an online presence. With no true written law in place for website accessibility, courts are deciding the cases most often, in favor of the plaintiff.
In April 2016, NetFlix agreed to add audio descriptions to the soundtrack of video that describes important visual details that cannot be understand by viewers who are blind.
The Judge made the statement below.
The department of Justice also made a statement in favor of having ADA Tile III applied to technology:
 "[W]hile such web-based services [as Netflix streaming video[ did not exist when the ADA was passed in 1990 and, thus, could not have been explicitly included in the Act, the legislative history of the ADA makes clear that Congress intended the ADA to be adapt to changes in technology. See, e.g. H.R. Rep. 101-485 (II), at 108 (1990) ("[T[he Committee intends that the types of accommodation and services provided to individuals with disabilities, under all the titles of this bill, should keep pace with the rapidly changing technology of the times.")."

Judge Michael Ponsor, U.S. District Judge for the District of Massachusetts
"Defendant Netflix is a public accommodation that offers its Watch Instantly and other services to the public.  As such, Netflix is subject to Title III of the ADA, even it if has no physical structure."

Statement of Interest of the United States Department of Justice in NAD v. Netflix (page 4)
There are many notable cases for those who do not have physical structure.  A few are below.
What happens if you do not comply with the law?
Settlements and Penalties
What does it cost if you are not accessible? There are fines in place for Section 504/Section 508.  But, for those who have received a demand letter for settlement or have been sued under the ADA Title III, the costs extend to court fees, attorney fees and settlements and the requirement of making their website accessible.
Fines up to $55,000 for the first violation and $110,000 for each subsequent violation.
Those who receive Federal funding could have those funds revoked for being in non-compliance. It's not anything you want to ignore.
A Twitter thread by Jared Spool, applauded the court's actions in Robles v. Dominos. This case was first tossed out of court, but in the appeals court, the ruling was revered saying that the ADA covers website and mobile application and so the case was relevant. Jared tweeted his opinion regarding applying accessibility to digital assists.
The first will likely come when insurance companies raise rates for any company that doesn't meet WCAG compliance. This will create a bigger market for compliance certification firms.
Insurance companies will demand certification sign-off to give preferred premiums. This will likely push companies to require WCAG understanding from the designers they hire.
In the short term, we'll likely see a higher demand for UX professionals with specialized knowledge in accessibility. In the long term, this knowledge will be required for all UX professionals. The demand for specialists will likely decrease as it becomes common practice.
Also, toolkits, frameworks, and other standard platforms will build accessibility in. This will also reduce the demand for specialists, as it will become more difficult to build things that aren't accessible. Good, accessible design will become the path of least resistance.
Standards for Accessible Websites
The W3C has created the Web Accessibility Initiative (WAI) to develop Web Content Accessibility Guidelines (WCAG).  The WAI brings together people from around the globe from industries, disability organizations, government & research labs to develop guidelines and resources to help make the web accessible to people with disabilities including auditory, cognitive, neurological, physical, speech, and visual disabilities.
The goal is to provide a single shared standard for web content accessibility to meet the needs of individuals, organizations, and governments internationally.
This initiative (WAI) has developed a set of technical documents and guidelines to provide a single shared standard for web content accessibility that meets the needs of individuals, organizations and governments internationally. They are called the Web Content Accessibility Guidelines WCAG. The most current version of the guidelines is called WCAG 2.0 with WCAG 2.1 currently in development and is scheduled to be published as a standard in 2018.
Notable Lawsuits Settled or Won
Target learned this from a $6 Million class action lawsuit settlement, as did H & R Block, Home Depot and other businesses. The fines and consequences are serious for those in non-compliance.
National Federation of the Blind, et al. v. Target Corporation set a precedent in 2008 when it agreed to settle a lawsuit alleging that its website was not accessible to the blind, agreeing to improve the website and pay $6 million into a "Damages Fund" for members of the class-action lawsuit. The court also awarded about $3.7 million in attorney fees.
National Federation of the Blind and HRB Digital LLC v. H & R Block. In a March 2014, subsidiaries of H & R Block agreed to pay $45,000 to two individual plaintiffs and a $55,000 civil penalty. The DOJ intervened on accessibility with regards to mobile apps and websites after several disabled persons filed a complaint for not being able to use H & R Block's website.
Noel Nightingale, a blind parent Co-Plaintiff, the National Federation of the Blind sued Seattle Public Schools. Nightingale notified the school district in 2012 that its websites were not compatible with the screen reader which reads aloud website content and documents or displayed in braille on another device. The incompatibility was due to changes that had been made on the website in 2012. In 2014, Nightingale sued the district and a settlement was reached. The school board estimated it will cost them approximately $665,000-$815,000 to implement the needed changes, attorney fees, accessibility coordinator and training of staff. Source: SettleTimes.com.
This was a landmark settlement agreement in that NFB President Mark Riccobono said he intends the settlement agreement to "serve as a model for the nation and should put school districts on notice that we can no longer wait to have equal education for blind students and to have access to information, use of school services, and full participation in school activities by blind faculty, personnel, and parents."
Dudley v. Miami University – Ms. Dudley, of Miami University in Oxford, Ohio sued the University for discrimination stating the website did not work with her screen reader. In its separate agreement with Ms. Dudley, the university denied liability but agreed to pay Dudley $108,000 for expenses toward an undergraduate degree at another university. Miami University also agreed to pay Dudley $102,000 for pain and suffering and repay up to $50,000 for student loans. Source: Seattle Times.
Where to start?
If you have received a demand letter, or a notification of a legal lawsuit, contact an attorney who is an expert in accessibility, such as Seyfarth Shaw.
Website Accessibility
The best place to start is with a website assessment and accessibility audit. This will provide you with a high level what is needed to bring your website up to the WCGA 2.1 standards. With an assessment of your current website, you will have the knowledge of what issues are present and what changes should be implemented for ADA compliance.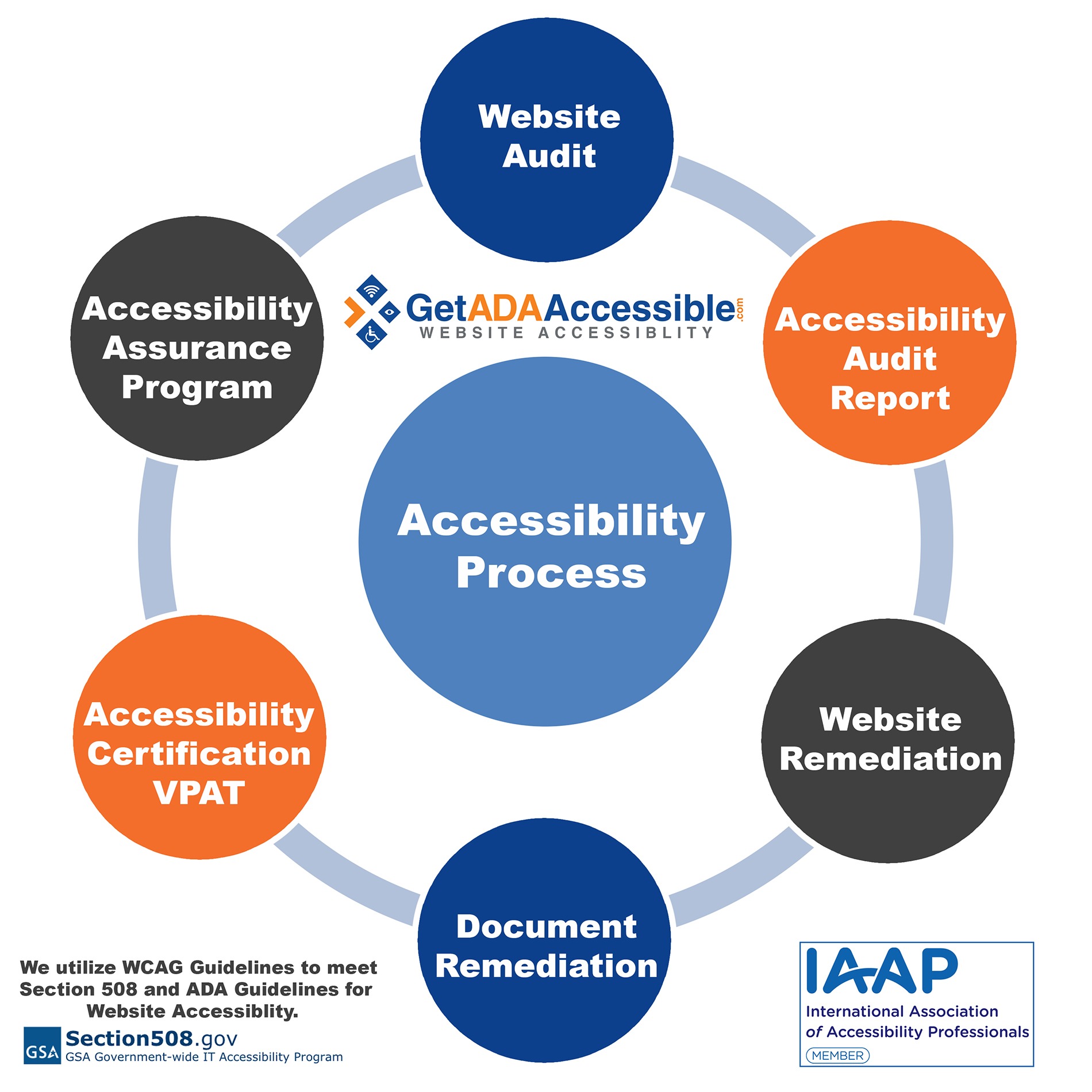 If you have a development team, they will be able to use the audit to format the code on your website, images, videos, multi-media, documents and PDFs into compliance by remediating your website or GetADAAccessible.com can perform the remediations.
A VPAT report will provide details on the website's accessibility that can be shared with those who have an interest in providing proof of accessibility.
If after reviewing your audit, and your current website cannot be remediated, we have a full development team who will develop a new ADA compliant website and remediate your online documents and PDFs.
GetADAaccessible.com provides monitoring and maintenance of your website for those who add new content. This ensures your website continues to be in compliance with all WCAG 2.0 rules. Should you wish to maintain your own website, we also provide resources for training your team.
Schedule a time to discuss your website accessibility.